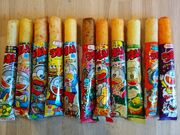 Umaibō  (うまい棒) or "delicious stick" is a small, puffed corn snack produced by Riska and sold by Yaokin. There are many flavors available and it has a suggested retail price of 10 yen. Since it has a small profit, the price can change without prior notice. The mascot of the snack is Umaemon, whose name is a pun of Doraemon, another popular animated character.
In the Series
Edit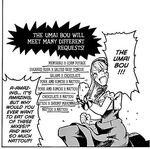 It is the first featured dagashi of the series as seen in
Chapter 2
of the manga and
Episode 1
 of the anime where 
Hotaru
 introduced it to
Kokonotsu
 to know if he is worthy of being her rival and told him about the various flavors available. She also challenged him to make the best mix of Umaibō possible to satisfy her taste.
Kokonotsu tried to combine them and used cheese and takoyaki flavors but Hotaru said that it lacks a punch. When he suggested to grill them, she starts to drool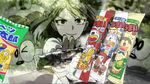 and still tells him that it's still not enough. At the moment when he combines the flavors of pizza, onion salad, and corn potage, she said "Ambrosial!" to him. The dagashi was also seen in the
opening
where Hotaru was holding one flavor while three other flavors are in the background.
Presently Circulating
Edit
Mentai
Corn Potage
Natto
Cheese
Teriyaki Burger
Salami
Vegetable Salad
Chicken Curry
Tonkatsu Sauce
Shrimp and Mayonnaise
Takoyaki
Chocolate
Beef Tongue
Pizza
Found in Specific Areas
Edit
Monja (Tokyo)
Honey (Shizuoka)
Mentaiko (Kyūshū)
Okonomiyaki (Kansai)
Kiritanpo (Akita)
Discontinued
Edit
Caramel Candy
Cocoa
Kabayaki
Saki-ika
Choikara Panchi
Crab Chanko
Omuraisu
Gyoza
Chocolate Peanut
Crab Dumpling
Mame-rikan (Bean-American)
Umeboshi Riceball
Red Lobster
American Hot Dog
Marine Beef
Curry